Fostering Collaboration by Design
By Steve Hulsey
Educators have a responsibility to prepare students to excel in a constantly evolving, fast-paced, global work environment. As companies must be agile to remain successful, administrators and students must follow suit. An assembly-line approach to instruction is being replaced by educational programs designed to promote communication, creativity, critical thinking and problem solving. The physical and virtual environments where this vision is to be carried out must support and participate in its success.
Many districts and universities are allowing room during class and the school day for students and faculty to interact collaboratively as a means of achieving the qualities described above. Collaboration on projects, research and planning can occur among peers, between students and faculty, and among instructors. Additionally, allowing community and industry members to participate in the design process of a school facility can promote a culture of inclusion from the inception of a campus. STE(A)M, Project Based-Learning, Career Tech and Schools of Choice programs provide specific opportunities as well.
Crafting of a school building that fosters collaboration occurs best through reciprocal relationships between designers, owners and users. From project visioning, programming, conceptual and schematic design, the learning environment is most successful when viewed from both the macro and micro level, with an understanding that a simple "plug-and-play" approach doesn't work. Spaces such as breakout niches for groups of two-three students, group office areas for faculty, and large student unions should work together as part of an overarching campus concept.
BUILDING BLOCKS
Classrooms, still the building blocks of a school, could be termed "studios" when they foster active learning. Traditional room configurations and a solely lecture style have contributed to limiting hierarchies, where vocal students receive more attention than reserved students who can find seats in rear rows to avoid interaction. When a teacher mentors among student groupings and fosters peer to peer learning and experimentation, respect and empowerment are granted to them. To enable this, static rows of desks and fixed millwork can be replaced by easily reconfigurable, detached tables and chairs on casters. Writable walls used as surfaces for short-throw projectors replace four foot high markerboards. Technology integration can allow students to project their screens onto the classroom wall and respond to questions anonymously.
In the classroom and throughout the school, proper lighting, acoustics and thermal comfort provide a functional backdrop for each space. Natural, diffused lighting reduces glare and eye strain. Sound seals, acoustic insulation, high NRC rated ceilings and sound panels, and parallel configuration of ductwork limit distraction. Outside air circulation, low VOC and durable materials increase improved indoor air quality and occupant health. Additional considerations such as effective storage reduces physical barriers. Lockers are being omitted for increased square footage and security, often replaced by student chairs with storage under the seat.
Large, open collaboration and project-based learning zones near groupings of classrooms provide a visual and spatial extension for students and faculty. At V. R. Eaton High School for Northwest ISD, designed by Dallas-based architecture firm Corgan, classrooms in each pod incorporate folding glass partitions to extend the learning space. Reconfigurable soft and hard seating, digital group workstations and integrated presentation nodes are available for students to organize and use as best fits their learning style and course needs. Cues provided in the floor and ceiling design provide a sense of space without requiring dividing walls. Wireless connectivity and device charging – which today's students expect to be as readily available without question – is provided throughout all areas of the school. Floor outlets and rolling markerboards can also be considered for enhanced mobility.
REMOVING BARRIERS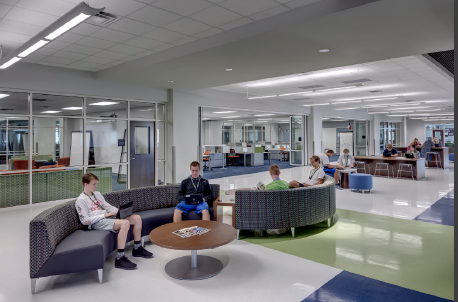 Providing access to various types of flexible learning spaces that allow for movement, interaction and ideation can promote both independence and interdependence, well-being and greater focus. In addition to large open collaboration zones, fully enclosed and semi-enclosed areas for groupings from two to eight students are needed. Additionally, accommodating individual learning in a flexible environment can balance "we time" with "me time." Typically, the more challenging the task is, the more there is a need for people to come together and then break out to recharge.
IMAGE: V.R. Eaton High School for Northwest ISD
Photo Credit: Charles Davis Smith, AIA
With an increase in open areas, security, clear visibility and age-appropriate design should be considered. At Eaton, each pod has two narrow access points from the main corridor which provide a secure boundary in case of a school lockdown. Faculty offices and collaborative work areas have a line of sight to all student spaces, with glazing at enclosed breakout spaces. Collaboration for younger grades is generally limited to classroom adjacency, while high school and post-secondary students are granted more freedom to utilize areas throughout the school and campus.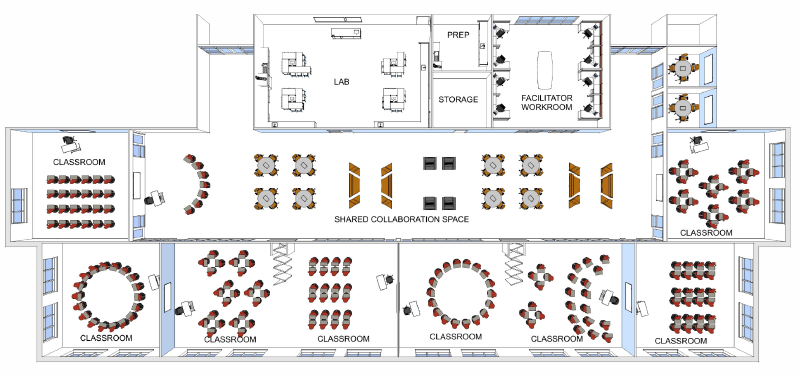 V.R. Eaton High School
Photo Credit: Charles Davis Smith, AIA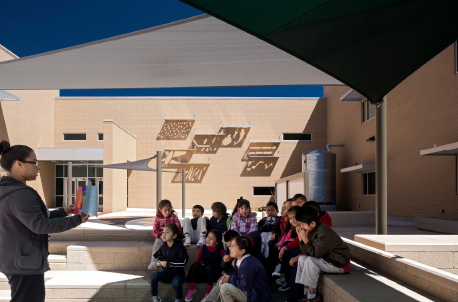 Extending instructional and experiential project space beyond the walls of the school makes use of the full site and underscores the concept of eliminating boundaries and barriers. Garland ISD's Daugherty Elementary and Grand Prairie ISD's Lorenzo De Zavala Environmental Academy, designed by Corgan, surround experiential outdoor spaces that support and expand curriculum. Students can measure the amount of rainwater collected and calculate the number of garden plots that can be watered by it over a period of time. Groups can track sun angles throughout the year by observing shadow length and direction from precisely placed art installations.
FACULTY PARTICIPATION
In addition to peer-to-peer collaboration, accessibility of faculty by students fosters respect, nurtures a strong culture, and provides opportunities for broader engagement of groups. In the renovation design of Grand Prairie High School for Grand Prairie ISD, the faculty break room and benching area is housed near the student union for passive and active interaction between students and faculty and shared use of breakout rooms. Sandy McNutt Elementary in Arlington, TX integrates faculty workrooms adjacent to open classrooms in each grade level pod, with an overlook to the outdoor learning courtyard.
Fostering collaboration among faculty is equally as important as student collaboration.  Unifying staff in group offices either near students or central in the school, rather than officing in an "owned" classroom can encourage productive discussion among instructors and provide an example for students. Teachers can strategize curriculum delivery, troubleshoot issues and set shared goals.

William Lee Hastings Elementary School , Duncanville ISD
Photo Credit: Charles Davis Smith, AIA
VISIONING
Successful learning environments require stakeholder buy-in at the inception of a project. Effective visioning, concept development and programming with various user groups shapes direction and expectations. Staff and student involvement prior to pencil hitting the paper helps set the stage for acceptance and adoption of new teaching and learning styles. Unique contributions from district administration, students, staff and community enrich the program. Time should be allotted in the schedule for these conversations to take place.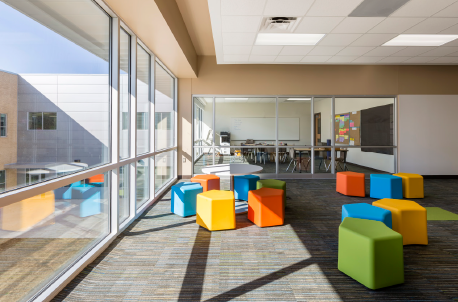 Initial concerns may arise regarding 21st Century concepts that may push the budget. Potential costs can be mitigated by efficient design strategies. Interval spacing of widened portions of corridors, distribution of media center functions throughout the school and dual use of program spaces provide the most bang for the buck. At Grand Prairie High School, cafeteria square footage is being captured into the student union with zones for dining, group work and individual study, integrated with technology throughout.
When the direction is set for a campus to have a focus such as project-based learning, STEM, Early College or a specific School of Choice such as Fine Arts or Business, the conversation can move to how the design can be customized for those programs. Flexible spaces must work within the needs of a program's required infrastructure. Maker spaces where tools and materials are provided to create interactive objects from abstract ideas, sculpture studios adjacent to welding shops for shared use of equipment, and black box theaters available for STEM experiments can create dynamic relationships between academic pathways. Additionally for these programs, unique opportunities can arise to bring local business leaders to the table during design to help inform chosen pathways and how spaces could be configured.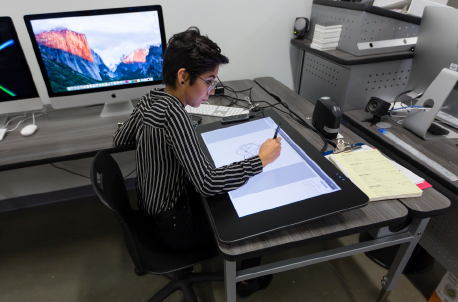 INDUSTRY PARTNERSHIPS
The Career & Technology Center for Keller ISD fostered an early partnership with the Sheriff's office which provided valuable insights. Skills shared with students regarding proper evidence screening, collection and bagging, and preventing evidence contamination, deepened their understanding. Cutting-edge equipment was donated in continued support of the program. A cross-curricular emergency simulation was developed to support scenario-based learning (a derivative of project-based and question-based learning). Criminal Justice students blocked off a school corridor to allow EMT students to care for injured persons and escort them safely to the elevator. Nursing students then took charge in caring for the patient, and partnered with the Pharmacy Tech students prior to discharge.
The culinary program for the Keller CTC is another example of response to industry input. A garden adjacent to the culinary food prep area reinforces the "farm-to-floor" concept. Production then moves to an industry-standard test kitchen and finally to persons in the adjacent dining room. The dining area doubles as a large lecture hall that can be partitioned into smaller group spaces using folding partitions similar to a hotel conference suite. For Northside Culinary School in Fort Worth ISD, the head of career and technology education for the district, professional chef Timothy Kelly, attended each programming meeting that Corgan facilitated. He stated that "A culinary space should be like a chameleon, as change is a normal part of daily instruction." Expectation of change and the need to future-proof can apply to all educational spaces in a school.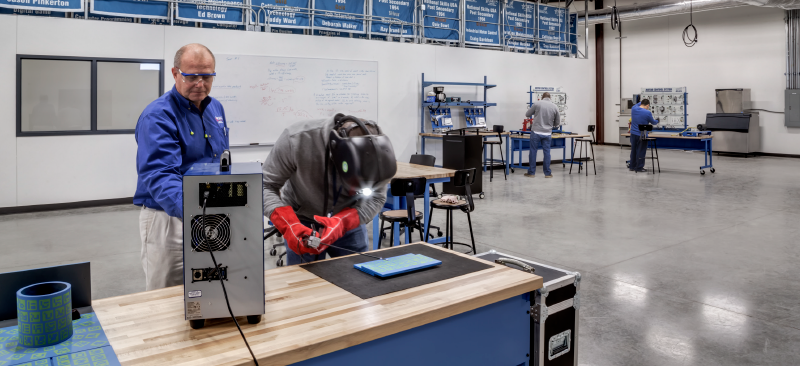 FUTURE SUCCESS
As philosophies and demands of education and the workplace continue to evolve, the built environment must continue to keep pace. Ongoing dialogue between architects, clients, and communities, in combination with adaptable design solutions will provide a solid framework for student success.
——————————–
About Steve Hulsey
Steve Hulsey, AIA, executive managing principal and education sector leader, has dedicated his career to the design and development of educational facilities and has built the educational expertise at Corgan that leads the market in service, quality and design. His skill in district-wide planning and bond planning provides opportunities to collaborate with diverse groups, to understand and interpret their needs and develop a vision that meets those needs. The Corgan Education team is committed to client and student success, creating places where they can thrive.