New Progressive Special Education Facility Designed to Meet the Needs of ALL Special Education Students
By Karen Alarid and Lisa Heimer
An exceptionally innovative special education facility with specialized services was recently opened by Albuquerque Public Schools (APS) for the start of the 2017-18 school year in August. The highly supportive specialized environment and services will serve students whose needs cannot be met in other district or school special education instructional settings. Specific designs and features that support optimal learning were included in the creation of this truly "special" special education facility.
The new Aztec Special Education Complex is a rebuild of an existing building and dramatically expands programs available to students that have intensive special education needs. The 62,428 square foot, two floor facility on a 10 acre site was designed to meet the diverse range of unique needs of students with cognitive, physical, communication and/or behavioral/emotional challenges. Aztec Complex faculty and staff are tasked with the diagnosis, evaluation and support and services for APS' special education student population. In ensuring spaces that encourage and reinforce the education process, the entire project team was well versed in understanding the needs of the students — from special education teachers and administrators to architects, space designers and construction crews. A special education expert and architect consulted on design essentials throughout construction of the project.
All spaces and their lighting and sound systems, furniture, teaching/learning tools, color schemes and building materials accommodate students' need for calm and order in fostering their ability to focus and absorb instruction in the best environment possible. Specific designs and features that support optimal learning were included in the creation of this truly "special" special education facility.
Aztec Complex melds the collection of special education resources onto one site — environment, diagnosis, methodologies, materials, technology and specialized instruction — geared toward providing the skills necessary to support student individualized educational plan (IEP) goals and transition into the next phase of their development. Aztec Complex programs allow students to gain skills in reaching their full potential to achieve their individual goals. "Every student's unique gift is going to be what drives their education program," stated Lisa Heimer, principal. The Aztec approach is a philosophy of working as a collaborative team with all professionals supporting the same understanding of each student's distinctive education needs.
The fully ADA accessible facility, designed to receive at least a LEED Gold certification, provides for unobtrusive but indispensable observation, monitoring and safety of students. These include observation windows in evaluation spaces that allow a team of experts to observe without disturbing the student. Cameras and two-way speakers installed throughout the complex classrooms allow the ability to monitor activity and provide a means for security. Every door in the Complex requires keycard swipe access to ensure student safety.

Aztec Complex    Photo Credit: Michael McMurphy, APS Construction
The upper level houses a staff of classroom teachers, diagnosticians, psychologists, occupational and physical therapists, audiologists, itinerant teachers and a nurse as well as fully equipped spaces dedicated to their specific areas of testing, teaching or services. The comprehensive testing and evaluation process supports the most effective teaching methodologies for each unique student.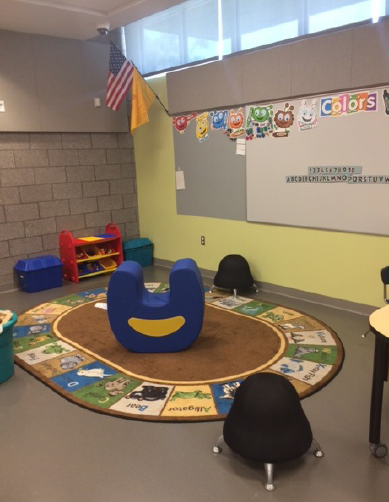 The ground level floor is dedicated to specialized classrooms, preschool, primary, intermediate and secondary classrooms, support areas such as a mini gym/multi-purpose space; full cooking kitchen and cafeteria; sensory rooms; library; computer lab; an occupational and physical therapy room as well as the specialized Opportunity Room, and Life Skills Studios. The ultimate goal of the Aztec Special Education Complex is to deliver quality instruction and services to students, providing them with the skills they need to function optimally in a less restrictive environment – ideally their home school campus.
IMAGE: Preschool Classroom   Photo Credit: Lisa Heimer, Albuquerque Public Schools
Specialized Learning Spaces
Creating safe, nurturing, and effectual environments for the students was the design and building teams' objective from concept to completion. Spaces that meet this aim include: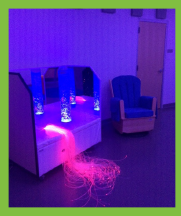 – Sensory Rooms, unique to public school systems nationwide, provide an opportunity for students to use the spaces and equipment that maintain students' tranquility and ability to concentrate on instruction. The rooms include weighted wearable vests, straddle cushy chairs that rock and support the child's back and chest, lap pillows and other supportive methods and materials that aid with self-regulation. These include fiber optics to play with, a bubble tube, water and sand play equipment and a ball pit. An inflatable canoe facilitates a student's reading. The lighting systems can be tailored to either calm or increase alertness.
– In the Life Skills Studios, high school students learn home and independent living skills including cooking and organizing. Project-based learning is also taught in this space. Academics are incorporated into a science or art project that students work on together. In addition to learning math, reading or writing through a team project, students also learn how to work cooperatively in groups.
– In the Opportunity Room, students learn skills that help them transition into the community, work in collaborative groups and participate in music and special events. It is hoped that in the future, virtual reality can become a tool for this space as well, to help students acclimate to different environments that they will face outside of school.
Specialized Features
– All furniture is moveable, adjustable, and some equipped with privacy screens. Designs – space, furniture and equipment – are based on students' emotional, physical and mental wellness — all prerequisites to effective learning. Rather than insisting that students sit still and listen during instruction, chairs with wiggle room and seat balls that allow bounce encourage their attentiveness and actually enable their ability to listen. "Instead of seeing their need to move as a distraction, we will use it to enhance their learning program," stated Heimer. "In allowing, rather than restricting freedom of movement, they listen while bouncing rather than concentrate on not bouncing and miss the lesson."
– Acoustic panels in all classrooms and spaces, including the gym, eliminate echoing and reduce distracting sound reverberation, keeping sound soft and unobtrusive.
– Each classroom has an adjacent comfort room with a beanbag chair or soft seating and a color light system that easily and comfortably soothes. The student retreats to the comfort room to self-regulate and gain the skills necessary to re-engage in learning. Staff members also teach students self-regulating and coping strategies. These specialized learning spaces are intended to support and reassure rather than intimidate or overwhelm the students.
– The school district assisted in adapting the facility's technology in an innovative way that is supportive and forward thinking. Each room is equipped with a Promethean Active Panel. In addition, Aztec Complex has the first "robot" in the district. Donated by Holman's Foundation for Autism based in Albuquerque, the robot allows a homebound student to attend classes at her homeschool via technology. The iPad connects the student via her laptop at home to her classmates on a high school campus. Via the robot, this student is no longer isolated; she maneuvers the robot and interacts in the classroom as well as socially with other students.
– Two specialized playgrounds designed to accommodate students by needs and size, a natural grass field, gardens and an outdoor patio area complete the campus. The playground equipment is specially constructed to meet the needs for students with disabilities. The latest playground design allows for students to utilize outdoor spaces to increase their physical activity, improve physical stamina and strength, and enjoy the benefits of outdoor recreation. Special slides, adapted climbing equipment and an exercise circuit are part of the play areas. The surface of each play area is filled with a unique cushioned material to protect students from a fall.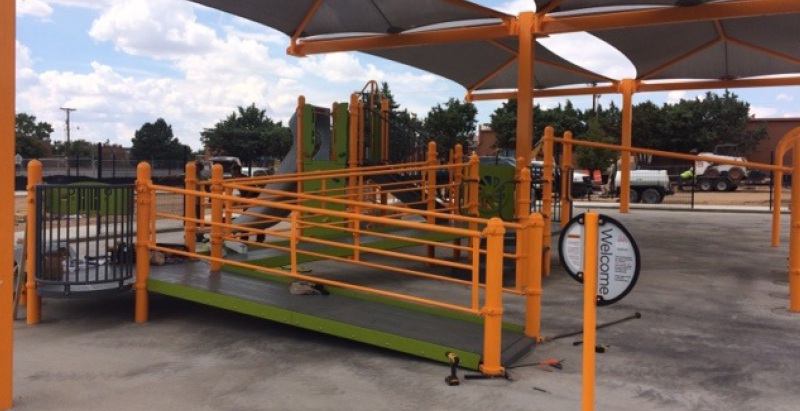 Playground    Photo Credit: Lisa Heimer, Albuquerque Public Schools
No child falls through the cracks
Aztec Complex provides a Child Find service that works at locating, identifying and evaluating children in need of special education. The special education team aims to assist students and their families in creating unique IEPs that meet the needs of students who qualify and are in need of specialized instruction. The APS Special Education Mission states, "Special Education supports schools, special education staff and families in their efforts to ensure quality instruction resulting in student success."
The Homebound program provides a continuum of services for special education students who are medically fragile or have severe behavioral concerns. Homebound offers minimal, short-term services on an interim basis in a highly restricted setting. As per a doctor's recommendation, students may be served away from the home school campus. Homebound services are determined through the IEP process and teachers travel to homes or alternate settings in the district to provide instructional services to students.
Aztec Complex's Interim Alternative Setting/Services (IAES) provides a special education setting that serves students who have been suspended from school long-term due to drug use or possession, weapon use or possession, or assault resulting in serious bodily injury. Aztec Complex personnel collaborate with the student's home school and parents in providing one-on-one or small group instruction. Over 90 percent of these students are successful while in attendance at the IAES Program.
The SCS3 (Social Communication Support) programs serve students in preschool through transition (beyond high school), in specialized classrooms and facility areas. These students and their families work with APS staff and providers in achieving their goals and highest potential.
Students First
The Aztec staff makes students and families the priority. It is not only the incredible facility design and construction, it is the work and success that happens every day that creates the innovation and focus on student achievement.  "It is through our collaborative teamwork and putting students first that student success is created," stated Lisa Heimer. "The students, parents and staff are the heartbeat and soul of the building."
———————————–
About Karen Aldrid
Karen Alarid, AIA, serves as both Director of Facilities Design + Construction for APS (since 2005) and as Executive Director of Capital (since 2008). She previously held architecture project administrator positions for several governmental entities as well marketing roles for private design firms. APS leads New Mexico in building LEED projects and has received regional and national recognition for its ambitious energy saving initiatives and programs.
About Lisa Heimer
Lisa Heimer holds a B.A. in Elementary Education with a Special Education K-12 endorsement and an M.A. in Educational Leadership. Her 30 plus years in education includes serving APS students as a teacher, behavior resource teacher, district instructional manager and principal. She found her passion for working with special education students very early in life and has spent her entire career as their advocate and hands-on guide in helping them reach their full potential through unique and innovative approaches.